Kool Kidz Parties – Extras
Party Food: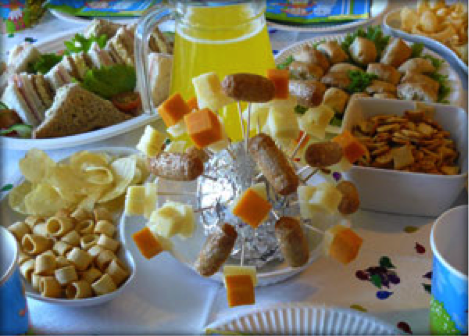 We can provide party boxes. Each food box will contain:
A ham, jam or cheese sandwich
Cocktail sausages
Raisins
Crisps
Cookie
Fairy cake
Dietary needs and food allergies can be accommodated
Airflow Adventure Centre:
A fun and exciting giant inflatable playground which can be used in a variety of different layouts. The revolutionary airflow system draws in a continuous flow of air through a quiet fan allowing children to play inside it. Our air flow adventure centre is perfect for children aged 3 to 7 years.
Bouncy Castle:
We have two bright and colourful bouncy castles which can be used in conjunction with your party
Small castle is 11ft x 11ft.
Large castle is 15ft x 15ft.
Face Painting:
Face painting adds an extra special touch, suitable for boys and girls.
Party Bags:
Party bags can be tailor made to your budget, your child's age and their interests.
Helium Balloons:
We have a variety of helium balloons to suit a wide variety of themes.
Just ask about any of our optional extra's on booking!
Kool Kidz Camp T&C's
Terms & Conditions and Camp Information
When booking with Kool Kidz Camps a contract is formed between us.
We are obliged to set out the 'Terms & Conditions' of that agreement below.
We have very high expectations of our camps and if for any reason we do not meet your expectations our staff will use their best judgement and work hard to put them right.
Admissions
Kool Kidz Camp admissions policy is that when places are limited children will be admitted in the following order of preference:
Children will be admitted in chronological order of first application
If there are siblings
Children who will attend for full week sessions.
Payment
Payment is required in full to confirm your booking. It also confirms the acceptance of the booking "Terms & Conditions".
We can take cheque, BACS or childcare vouchers as payment. Cheques are to be made payable to Kool Kidz Group and the full balance must be received at least 5 days prior to the booking, however if we have spaces available you may book one day in advance and the full amount is to be paid on the day that your child attends. If your balance is not made by the date due we may have to cancel the booking.
Confirmation
Your confirmation invoice will state your children's details, dates and amount due to Kool Camps. Please check it and let us know within 14 days if the details are not correct.
Cancellations
Cancellations must be made in writing at least one week prior to your child's booking and can result in loss of your payment if not enough notice is given. Kool Camps regret that you will be charged for children unable to attend through sickness. This is because we would have already made provisions for them attending camp and may have turned custom away.
Exclusion
Depending on the severity of a child's behaviour and if the problem cannot be resolved, staff will have no choice but to call the child's parent or guardian and exclude the child from camp. In the event of exclusion the fee will be refunded.
Collecting Children
Parents and guardians are responsible for ensuring that they or an authorised person collect their children before the camp closes at 4.00pm. For the protection of your children, no child will be released to an unauthorised person. Each parent will be given a security number or password, and when collecting children, the authorised person should sign the attendance book, and be prepared to quote the security number/password. An additional charge of £5.00 per quarter of an hour will be made for any child who has not been collected by an authorised person by the time they are due to be collected.
Photography
We may take photographs at camps that may be used for marketing and promotional purposes. If you'd rather your child was not included in these photos please state this in your registration form before the camp starts.
Health & Safety
When registering your child you must specify any medical information to enable us to act appropriately and professionally. In order for us to maintain high standards of health and safety, children with certain medical or physical conditions may not be allowed to participate in some activities. We will work hard in providing alternative activities. All information given will be treated in complete confidence.
Child Protection
Kool Kidz staff has a duty to respond if they suspect a child in their care may be suffering from abuse, or if a child makes a disclosure about abuse. In this event staff will follow Kool Camps Child Protection Policy and contact the local area Child Protection Committee and act on their advice.
Staff
Kool Camps ratio of staff to children is 1:8 for children under eight years old and 1:13 over eight. There will always be two members of staff with children at all times to comply with our health and safety standards.
Liability
Kool Camps are covered by public liability insurance; however we do not accept liability for loss or damage of personal items. It is the child/ parents responsibility for personal items brought on to the camp.
Programme Changes
Kool Camps reserves the right to change advertised activities in the event of:
Unsuitable weather conditions
Failure of equipment
Building faults/ maintenance
Adapting for children with special needs.
Policies and Procedures
Kool Camps policies and procedures are kept at our office; however copies are available on request.
Complaints
It is of high importance to us that every child that attends our camp enjoys their time. We will carry out customer evaluation questionnaires to ensure that we maintain our high standards. If you or your child are not entirely satisfied with the service we provide then we want to be the first to know. The camp Manager will deal with any complaint promptly and efficiently. All complaints will be recorded in our 'complaints book' along with our action plan to rectify the complaint. Please be assured your complaint will be taken very seriously. In the unlikely event your complaint is still unresolved, you may wish to contact Ofsted on 0300 1234234.
Data Protection
At Kool Kidz Camps we need to collect some personal details from you and your children on your registration so we can process your booking, such as names, ages, date of birth, addresses and any medical or dietary restrictions. All records will be kept in the strictest of confidence and filed appropriately.
Privacy Policy
Please view our Privacy Policy here.